Welcome…
Harthaven Pet Cremation Service has been a comforting and reliable friend to pet owners whenever a beloved pet has died.
We know that the death of a pet is like losing a member of the family and we understand your feelings and apprehensions when that happens. We also know that you want a trustworthy professional service that is able to guarantee the identity of the remains returned to you.
Harthaven introduced private pet cremations to the State of Alaska in 1987 and it remains Anchorage's only family owned and operated service. At every opportunity we dedicate ourselves to set the highest standard of care for you and your pet.
If you would like to have end-of-life planning information for your pet, we will discuss your circumstances with professionalism and personal sensitivity.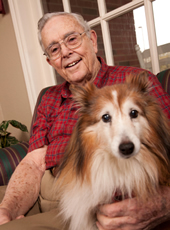 If you do not have a regular veterinarian, we can assist you with a referral to one of our preferred providers who share our quality of service commitment.
We pick-up and transport your pet from your veterinary clinic or by arrangement from your home if necessary. If you prefer, you may also bring you pet directly to our centrally located office in mid-town during business hours from 9:00 am – 5:00 pm or by making an after-hour appointment.
Harthaven also specializes in airport service for clients who live outside of Anchorage and we return the cremated remains by certified mail.
Please look over the introductory information we provide here. You may find solace in the Poems of Comfort or helpful guidance with our explanatory brochures in the Articles Page. Please also spend time exploring the Useful Links that will take you to resources of healing and lovely tributes to all those pets who wait for us at the "Rainbow Bridge."

If you need any assistance or simply have a question, please don't hesitate to contact us. For after-hour emergencies 24 hours a day/365 days a year, please contact Diamond Animal Hospital & Emergency Services at 907- 562-8384.